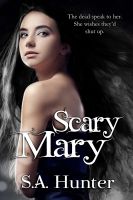 It's another somewhat predictable teen romance but with an element of the supernatural to it.
I like how the supernatural is handled here, it's not just around for the kids to make fun of, though it does start out that way. By the end of the story more than one of the teens has a newfound respect for the things they can't always see.
The story is a bit formulaic but not to the point where it's not enjoyable enough, at least for the YA crowd it's intended for. There are a couple of plot holes at times but nothing that ruined the story for me.
All in all a good story, one that I'd recommend to a reader that's not sure they want a deep story but something to pass a few hours with.